91-DIVOC Visualizations
---
Daily, Every Day: Updates to All Charts and Datasets
Every day, all 91-DIVOC visualizations are updated with the latest data compiled from various data sources across the Internet.
---
January 7, 2021 – Several User-Requested and User-Reported Features
A few quick user-reported and user-requested features were just added:
---
December 31, 2020 – Vaccine Data Available for Countries and Detailed Synchronization Logs
Two major additions: more vaccine data (country-level data, instead of just states) and a detailed log of the synchronization status of 91-DIVOC.
---
December 24, 2020 – Vaccine Data Available for US States
As the vaccination against COVID-19 begins, many US states are beginning to report total numbers of vaccinations. This data is now provided on the US state-level graphs, including the normalized views. This data is sourced/compiled by the Centers for Civic Impact at Johns Hopkins University, as JHU continues to lead the way in providing fantastic, open-source COVID-19 data.
The four new 91-DIVOC visualizations include:
Total COVID-19 vaccines allocated to each state
Total COVID-19 vaccines administered by each state
New COVID-19 vaccines administered /day
New COVID-19 vaccines administered /day (7-day average)
Happy Holidays! :)
---

December 7, 2020 – Expanding Graphs on Large Desktop Monitors + 21-Day CFR Experimental Graph
On large/wide monitors, all of the content is centered and there may be a large amount of whitespace on either side of the graphs. Today's update adds a new option, which you'll only see on a large monitor, named "Expand Graph". You'll find it to the right of "+Add Additional Highlight" on all four of the graphs – click it and see the graph fill up your screen! :)
Additionally, a new experimental graph (21-day lagged CFR) was added at the bottom of the "Data' selection options.
---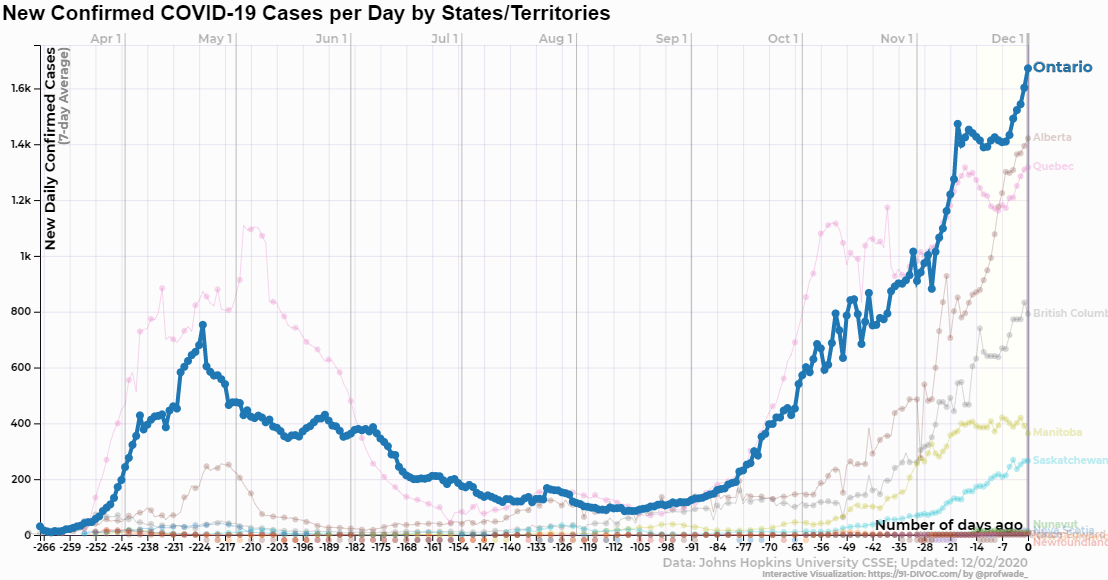 December 2, 2020 – Added Canadian Provinces/Territories
As our friends to the north see their own second wave, several have requested the Canadian provinces/territories added to the 91-DIVOC graphs. To keep the graphs largely the same, I've added the Canadian Territories as an "off-by-default" addition:
You can view all of the Canadian by choosing "Show" -> "Canadian Provinces".
Additionally, at the bottom of the list of states under "Data", you can choose each individual province.
With this, it's now possible to compare a canadian province side-by-side with any US state. Otherwise, the data will be only show the United States states/territories as usual.
---