91-DIVOC Visualizations
---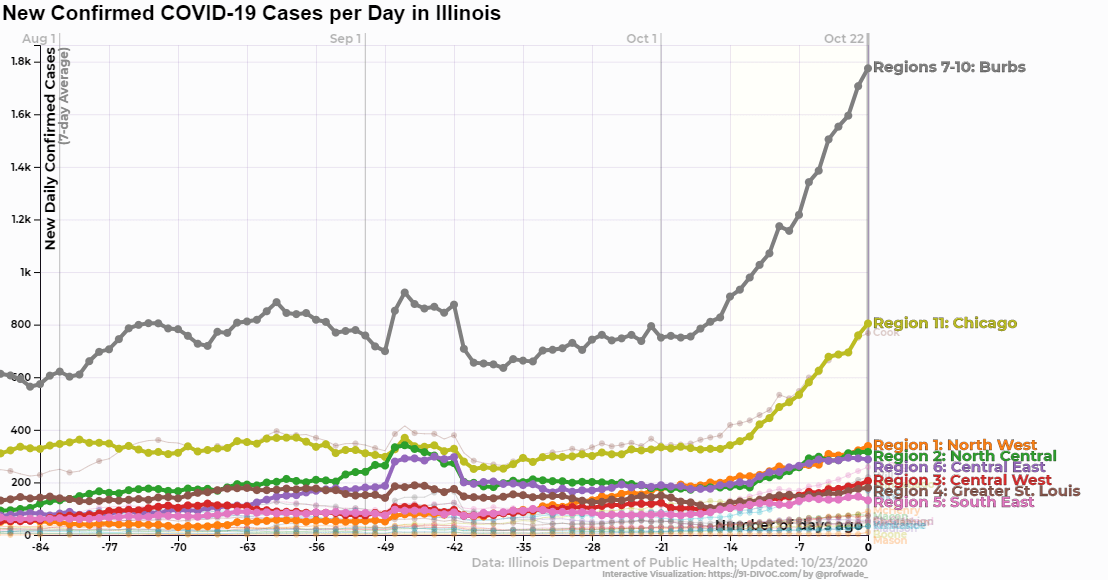 October 23, 2020 – Illinois Visualization Major Re-launch
Major re-launch of the "91-DIVOC #05: Interactive Visualization of COVID-19 in Illinois", updating to all of the latest Illinois policies:
The "Restore Illinois" regions have been removed and replaced with the Emergency Medical Services Regions.
Added the "Region 6 w/o UIUC" for the Region 6 data excluding UIUC testing.
All data processing scripts have been updated to match the latest data sources from Illinois.
Removed Chicago from Cook County for Population-Normalized Graphs
---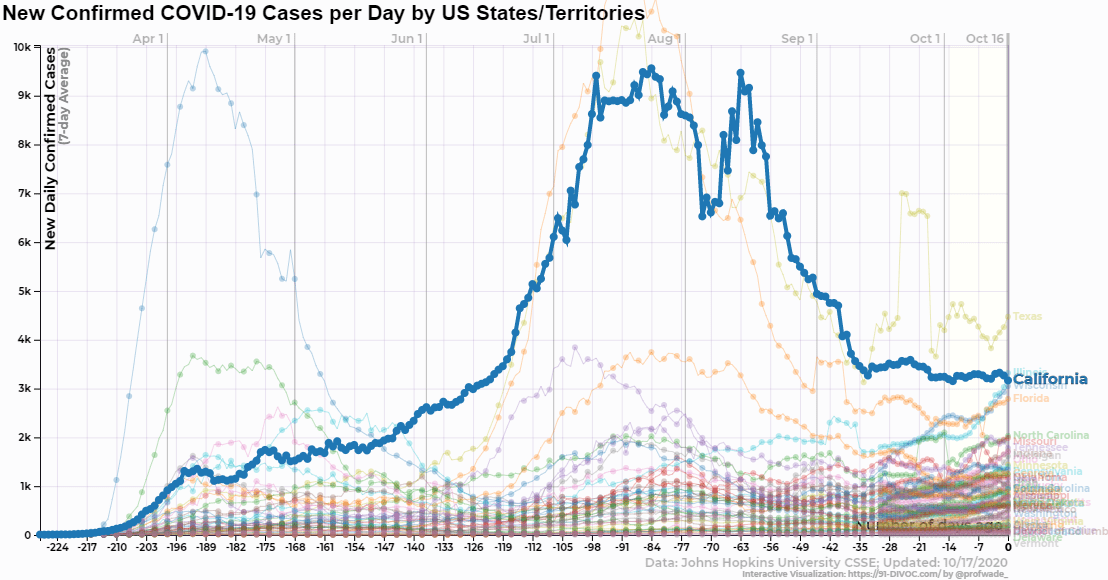 October 18, 2020 – New Guide and Normalized Graph Improvements
I've added a small guide to the visualization, providing an overview of the key aspects of the visualization including the data sources, regions, normalized data, and more. Additionally:
Normalized populations are now displayed /100k instead of /1m people in all of the normalized visualizations
On the normalized visualizations, the default "Show" option is now "Top 25 by Data w/ Pop. >1m". The previous default, "Top 25 by Data" (without any filters) is still available as a selection. This was done as the default display was dominated by two small countries, The Holy See and Andorra, having 5-10x the normalized cases /day than the rest of the world.
The default state has been changed from New York to California.
---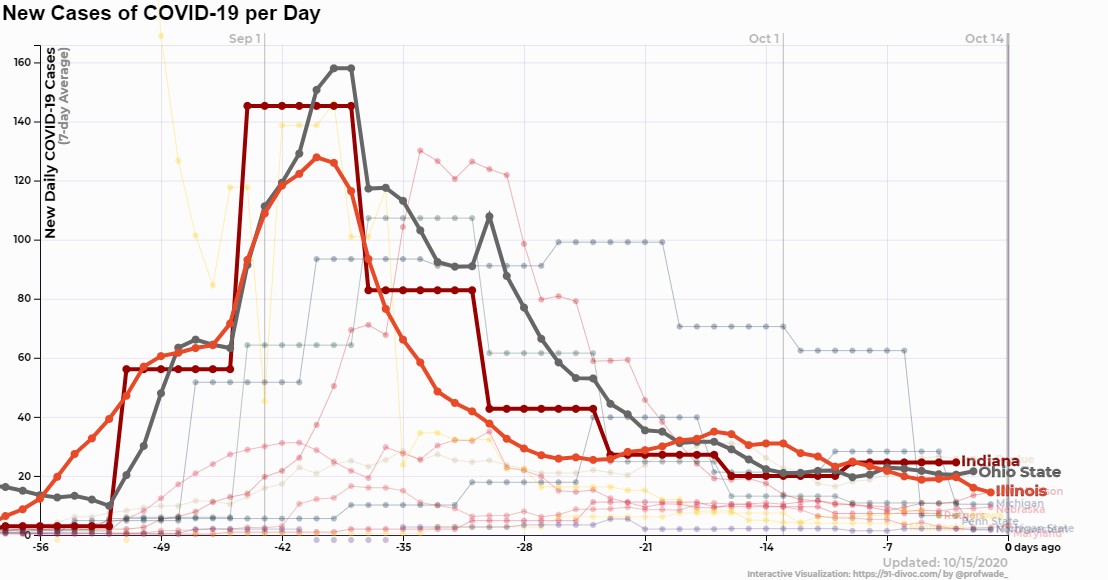 October 15, 2020 – Big Ten School Visualization Colors
The Big Ten visualization now uses each school's primary or secondary colors as the line color to provide additional context.
---
October 15, 2020 – Hospitalization Data and Mobile Layout
Starting a bit over a month ago, Johns Hopkins University has stopped reporting any state-level hospitalization data (you can see the empty column in their raw data). Fortunately, the COVID Tracking Project by The Atlantic continues to report this data and, when choosing state-level hospitalization data graphs, you are prompted to select the COVID Tracking Project data source to view the data. (It appears they're not tracking every state, but they're getting data from the majority of the states.)
Additionally, the mobile layout labels were getting extremely cluttered – the latest update cleans up the spacing on x-axis labels when viewing the visualization on a mobile layout. 🎉
---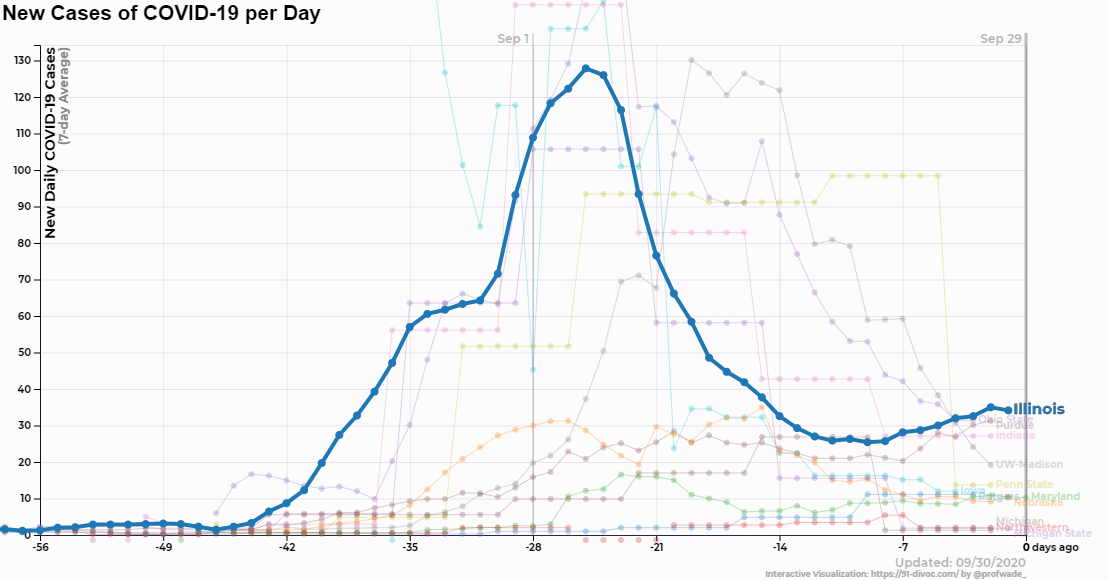 October 1, 2020 – New Visualization: COVID-19 at Big Ten Conference Schools
The University of Illinois has been widely reported in national media for testing every single student twice a week – how are they doing? How do they compare to their peer schools within the Big Ten Conference?
The newest 91-DIVOC visualization explores COVID-19 at Big Ten Conference Schools, tracking the number of confirmed cases of COVID-19, total COVID-19 tests administered, and the test positivity.
As with all of the visualization, the visualization is updated daily. :)
---